Dinos Trigonis
Pangos/Fullcourt Press
Dinos, age 55, has published the Fullcourt Press (a NCAA certified recruiting service publication and website covering West Coast High School and JUCO basketball) since 1994. Currently, over 150 schools (at all college levels) subscribe to this publication including such programs as UCLA, Arizona, Stanford, Duke, Memphis, Michigan State, North Carolina, UConn, USC, Kentucky, Kansas, Michigan, Georgetown, Temple, Virginia, Syracuse, Indiana, Baylor, Cincinnati, Maryland, St. John's, Utah, Cal, Arizona State, Gonzaga, Oregon, Oregon State, Washington, UNLV, Washington State, Auburn, Missouri, Texas, Providence, Alabama, Georgia, Seton Hall, Fresno State, Clemson, Iowa State, UMass, Villanova, Louisville, Nebraska, Northwestern, St. Joseph's, Vanderbilt, Tennessee, Illinois, Texas A&M, Texas Tech, Xavier, Iowa, Wyoming, SMU, BYU, UTEP, Georgia Tech, Notre Dame, TCU and New Mexico.
Dinos founded (and organized for 20 years) the top HS basketball regular season one-day event on the West Coast - Pangos Dream Classic (originally the MLK Holiday Challenge) held every January. In 2003, the Dream Classic featuring the #1 pick of the 2003 NBA Draft LeBron James (Los Angeles Lakers) drew over 12,500 fans, scouts and college coaches as well as a national ESPN2 audience. The 2004 Dream Classic showcased three 2004 NBA draft lottery picks: Dwight Howard (#1 pick to the Orlando Magic), Robert Swift (#12 selection to the Seattle Supersonics) and Sebastian Telfair (#13 choice to the Portland Trailblazers). Other NBA players that have showcased their skills here include Paul Pierce (Boston Celtics/Washington Wizards), Baron Davis (Los Angeles Clippers), Tayshaun Prince (Detroit Pistons/Memphis Grizzlies), Tyson Chandler (Dallas Mavericks), Jason Collins (Atlanta Hawks), Jarron Collins (Phoenix Suns), Casey Jacobsen (Memphis Grizzlies), Luke Walton (Los Angeles Lakers), Josh Childress (Phoenix Suns), Jason Kapono (Philadelphia 76'ers), Kirk Snyder (Minnesota Timberwolves), Jamal Sampson (Sacramento Kings), Dijon Thompson (Phoenix Suns), Jordan Farmar (New Jersey Nets), Nick Young (Washington Wizards), Javaris Crittenton (Washington Wizards), DeMarcus Nelson (Golden State Warriors), DJ Strawberry (Phoenix Suns), Brook Lopez (Brooklyn Nets,), Robin Lopez (Portland Trailblazers), Trevor Ariza (Houston Rockets), Brandon Jennings (Detroit Pistons), Craig Smith (Los Angeles Clippers), Jrue Holiday (New Orleans Pelicans) and Derrick Favors (Utah Jazz).
In 1997, Dinos founded the Eddie Jones All-Star Classic (which was for a period renamed the Dada All-Star Classic) which has showcased such top prep All-Americans as Richard Jefferson (Arizona/San Antonio Spurs), Gilbert Arenas (Arizona/Orlando Magic), Drew Gooden (Kansas/Milwaukee Bucks), Earl Watson (UCLA/Utah Jazz), Stephen Jackson (Charlotte Bobcats), Jamaal Crawford (Michigan/Los Angeles Clippers), Tayshaun Prince (Kentucky/Detroit Pistons), Kirk Hinrich (Kansas/Washington Wizards), Freddie Jones (Oregon/Indiana Pacers/NBA Dunk Champ), Luke Walton (Arizona/Los Angeles Lakers), Rasul Butler (La Salle/Los Angeles Clippers), Jerome Moiso (UCLA/Toronto Raptors), Kareem Rush (Missouri/Philadelphia 76'ers), Korleone Young (Detroit Pistons), Leon Smith (Dallas Mavericks), Matt Barnes (UCLA/Los Angeles Clippers), Alvin Jones (Georgia Tech/Philadelphia 76'ers), Lonnie Baxter (Maryland/Toronto Raptors), Jason Parker (Kentucky), Sam Clancy (USC/Philadelphia 76'ers), Tito Maddox (Fresno State/Houston Rockets), Jeff Trepagnier (USC/Denver Nuggets), Schea Cotton (Alabama), Desmon Farmer (USC/San Antonio Spurs) and Travon Bryant (Missouri/Greek Pro League/Brooklyn Nets Assistant).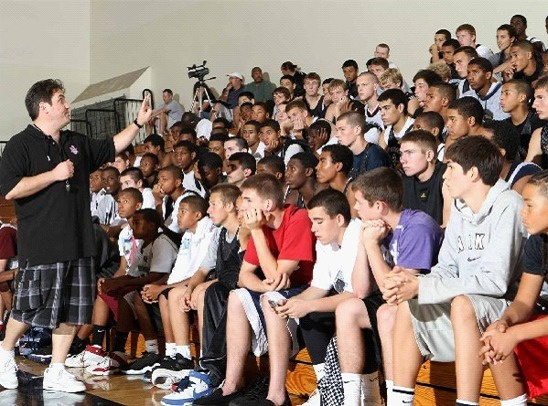 In July 1999, Dinos (with Etop Udo-Ema) established the Fullcourt Press All-West Camp – that annually showcased 300-plus of the West Coast's top HS players for college coaches and scouts. In June 2003, Dinos created the Pangos All-American Camp which annually attracts 100-plus of the nation's top HS players as well as several of the top recruiting scouts in the nation - Frank Burlison (BurlisonOnBasketball.com), Van Coleman (Nothing But Net Magazine), Clark Francis (Hoop Scoop), Eric Bossi, Krysten Peek & Corey Evans (Rivalshoops.com), John Stovall, Jeff Borzello & Fran Franschilla (ESPN.com), Jerry Meyer, Evan Daniels,& Josh Gershon (247Sports.com), Doug Gottlieb (Fox Sports), Seth Davis (CBS Sports), Scott Phillips (NBC Sports), Jonathan Givoney & Mike Schmitz (ESPN & DraftExpress.com), Aran Smith (NBADraft.net) and Brick Oettinger (ACC Journal). Top players that have participated here include James Harden (Arizona State/Houston Rockets), Russell Westbrook (UCLA/Oklahoma City Thunder), John Wall (Kentucky/Washington Wizards), Anthony Davis (Kentucky/Los Angeles Lakers), DeMar DeRozan (USC/San Antonio Spurs), Kyle Lowry (Villanova/Toronto Raptors), Derrick Favors (Georgia Tech/Utah Jazz), Brandon Jennings (Detroit Pistons), Jrue Holiday (UCLA/New Orleans Hornets), Deandre Jordan (Texas A&M/Brooklyn Nets), Harrison Barnes (North Carolina/Sacramento Kings), Chandler Parsons (Florida/Memphis Grizzlies), Andre Drummond (Detroit Pistons), Aaron Gordon (Orlando Magic), Zach LaVine (Chicago Bulls/2015 NBA Dunk champ), DeAndre Ayton (Arizona/Phoenix Suns) and Trae Young (Oklahoma/Atlanta Hawks).
Dinos is the head coach of the Belmont Shore Basketball Club - based in Long Beach CA. This elite high school club annually plays a national schedule and has had great success at such major tourneys as the Rbk Summer Championships (2007 champions), Mae Fisher Las Vegas Easter Classic (2004 & 2008 champions and 1999 runners-up), Say No Classic College Summer League (1994 champions), Nike National Summer Championships (1998 runners-up), Houston Kingwood Classic (2001 runners-up), Bob Gibbons Tourney of Champions (1998 championship Final Four and 2000 Select Division Final Four), Las Vegas Spring Showcase (2008 runners-up and 2004 championship Final 4), Los Angeles Rockfish Spring League (1998 champions), Fullcourt Press Easter Classic (2010 champions), Pangos Spring Spectacular (2013 & 2015 champs), Pangos Summer Sweet 16 (2016 champs) and Las Vegas Desert Classic (2002 champions). Trigonis has coached 217 players that have received NCAA Division I scholarships and 33 players that have played in the NBA. For a complete list, please visit the Belmont Shore Basketball page of this website: https://www.fullctpress.net/belmont_shore.html

Dinos has also conducted camps like the Kenny Smith Fullcourt Press/Pangos Lead Guard Camp for the past eight years. Other Fullcourt Press/Pangos camps and events include the Pangos Sweet 16 (April & July), Terrific 24 (April), Fullcourt Press Cream of the Crop Challenge (July), Pangos Midnight Madness (July in Las Vegas), Fullcourt Press Best of SoCal Showcase (September), Pangos All-Frosh/Soph Camps (September/October) and Tarkanian Classic (December in Las Vegas). In addition, Dinos has worked as the West Coast editor for Clark Francis' Hoop Scoop and has served as a voting member of the GrassrootsHoops.net Mr Basketball USA, Press-Telegram "Best in the West" and SLAM Magazine All-American team balloting and as a coach at the Nike All-American Camp.

In January 2009, Dinos launched a new national high school basketball magazine - Nothing But Net and affiliated website nbnmagazine.com in July 2010, Dinos created the Las Vegas Fab 48 - Las Vegas' top July exposure team tourney from 2010-2018 and its successor Fantastic 40 @ Las Vegas NV in 2019. Trigonis is a 1989 graduate (B.A. political science) of Long Beach State and a 1992 graduate (J.D.) of Temple Law School where he was a founder and co-Editor-in-Chief of the Temple Political & Civil Rights Law Review.
---