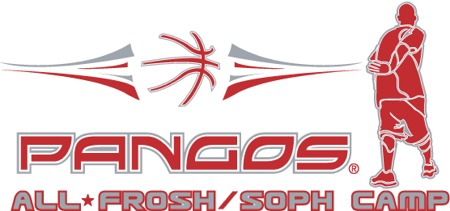 2022 PANGOS ALL-SOUTH FROSH/SOPH CAMP
Saturday - Sunday October 1-2, 2022
Duncanville Fieldhouse
1700 South Main Street
Duncanville TX 75137
TO REGISTER ONLINE NOW "CLICK" HERE.
* HIGHLIGHTED LINKS ARE ACTIVE TO VIEW
TEAM ROSTERS

CREAM OF THE CROP GAMES TEAM ROSTERS
Camp Fee: $250.00

MEDIA REQUEST FORM

Limited to 240 top Southern HS Frosh/Soph players
All participating players will have an opportunity to demonstrate their skills to all the top national/regional scouts expected to attend.
All games live-streamed by BallerTV.com for easy viewing by college coaches.
Camp Recaps by Nothing But Net Magazine: www.nbnmagazine.com

2020 NBN Camp Recap: https://nbnmagazine.com/2020-pangos-all-south-frosh-soph-camp-a-look-back/

2019 NBN Camp Recap: https://nbnmagazine.com/2019-pangos-all-south-frosh-soph-camp-recap/

Top national scouts/media scheduled to be present:
Frank Burlison (McDonald's AA Game & NBPA Camp committee/BurlisonOnBasketball.com)
Van Coleman (McDonald's AA Game & NBPA Camp committee/NBN Magazine)
Ronnie Flores (Ball is Life/Fab 50 Nat'l HS Team Rankings)
Dinos Trigonis (Nothing But Net Magazine and Pangos All-American Camp)
Top Video-Outlets present: Ball is Life, OverTime and Ball Dawgs
Top Players Invited to 2023 Pangos All-American Camp (June 2023)
All Players Receive a Pangos All-Frosh/Soph Camp tee-shirt
Recent Camp Videos
Pangos All South Camp Presented By Ballislife Official 2012 Recap!! Texas Elite Frosh & Soph!
http://www.youtube.com/watch?v=kRGcDW1DdSw
2013 Pangos ALL South Frosh & Soph Camp Official Ballislife Recap!
http://ballislife.com/pangos-all-south-frosh-soph-camp-official-ballislife-recap-clean-highlights/
Past Players That Have Attended Pangos All-Soouth Fr/So Camp Include:
2006 camp MVP Derrick Favors (Georgia Tech/Utah Jazz), 2013 co-camp MVP Terrance Ferguson (OKC Thunder), 2013 co-camp MVP DeAaron Fox (Kentucky/Sacramento Kings), Trae Young (Oklahoma/Atlanta Hawks), Quincy Miller (Baylor/Denver Nuggets) Glen Rice Jr. (Georgia Tech/Washington Wizards), Jordan Adams (UCLA/Memphis Grizzlies) Lorenzo Brown (North Carolina State/Philly 76'ers), Justin Anderson (Virginia/Philly 76'ers) Leslie McDonald (North Carolina), Ari Stewart (Wake Forest/USC), Mfon Udofia (Georgia Tech) 2007 camp MVP Trae Golden (Tennessee), Torrin Walker (OK State) Manny Atkins (Virginia Tech, Jalen Kendrick (Memphis/Mississippi/UNLV), Ian Miller (Florida State), Mychal Parker (Maryland) 2008 camp MVP Quddus Bello (Baylor), Michael Gbinije (Duke/Syracuse), Kevin Ware (Louisville) Tony Parker (UCLA), Charles Mitchell (Maryland), Devonte Pollard (Alabama), Tyler Lewis (NC State/Butler), Gavin Ware (Mississippi State), Elijah Thomas (Clemson), King McClure (Baylor), Tyler Davis (Texas A&M), Jarrett Culver (Texas Tech/Minnesota Timberwolves), Marques Bolden (Duke), 2015 & 2016 camp MVP Charles Bassey (#1 in 2019, Western Kentucky/Philly 76'ers), 2017 camp MVP Cade Cunningham (Oklahoma State/Detroit Pistons), Greg Brown (Texas/Portland Trailblazers), Moses Moody (Arkansas/Golden State Warriors) and Chance Moore (Arkansas)
Past Pangos event alumni include LeBron James, Dwight Howard, Paul Pierce, Baron Davis, Tyson Chandler, Gilbert Arenas, Josh Childress, Kirk Hinrich, Tayshaun Prince, Andrew Gooden, Sebastian Telfair, Rashard Lewis, Richard Jefferson, Javarris Crittenton, Gani Lawal, Kyle Lowry, Hakeem Warrick, Stephen Jackson, Arron Afflalo, Gabriel Pruitt, Jared Dudley, JJ Hickson, Anthony Randolph, DeAndre Jordan, Brandon Jennings, DeMar DeRozan, James Harden, Jrue Holiday, Jordan Hill, Austin Daye, Darren Collison, John Wall, Harrison Barnes, Ben Simmons, DeAndre Ayton, Michael Porter, Anthony Edwards Edwards

TO REGISTER ONLINE NOW "CLICK" HERE.
BECAUSE SPACE IS LIMITED!!!

For More Info CALL (562) 804-8747 or e-mail: Trigonis30@aol.com
---