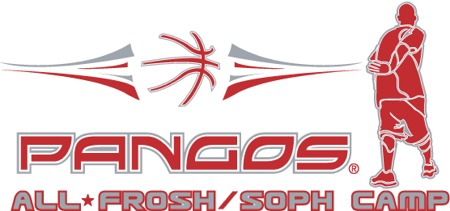 2022 PANGOS ALL-MIDWEST FROSH/SOPH CAMP
Saturday - Sunday October 15-16, 2022
Park District of La Grange
536 East Avenue, La Grange IL 60525
(15 miles West of Downtown Chicago/7 miles from Midway Airport)
CREAM OF THE CROP GAMES TEAM ROSTERS
SPECIAL HOTEL RATES - TBA

Limited to 240 top Midwest HS Frosh/Soph players
All participating players will have an opportunity to demonstrate their skills to all the top national/regional scouts expected to attend.
All games live-streamed by BallerTV.com for easy viewing by college coaches.
Camp Recaps by Nothing But Net Magazine: www.nbnmagazine.com
2019 NBN Magazine camp recap: https://nbnmagazine.com/2019-pangos-all-midwest-frosh-soph-camp-report/
Top national scouts/media scheduled to be present:
Frank Burlison (McDonald's AA Game & NBPA Camp committee/BurlisonOnBasketball.com),
Van Coleman (McDonald's AA Game & NBPA Camp committee/NBN Magazine)
Ronnie Flores (Ball is Life/Fab 50 Nat'l HS Team Rankings)
Dinos Trigonis (Nothing But Net Magazine and Pangos All-American Camp)
Top Video-Outlets present: Ball is Life, OverTime and Ball Dawgs
Top Players Invited to 2023 Pangos All-American Camp (June 2023)
All Players Receive a Pangos All-Frosh/Soph Camp tee-shirt

Recent Camp Videos
Tyler Herro (2018) Mixtape @ 2015 Pangos Midwest Fr/So Camp
https://www.youtube.com/watch?v=4nmAMvdAVzQ&feature=youtu.be
The Future is Bright! 2013 Pangos All-Midwest Camp Official Recap: Straight Fire!
http://www.youtube.com/watch?v=QTslAziEQYE
Charles Matthews lights up 2012 Pangos All-Midwest Frosh/Soph Camp! Top Illinois Sophomore!
http://www.youtube.com/watch?v=WKxD72GFoNE
2013 Pangos All-Midwest Fr/So Camp: Video Recap
http://iaelites.com/videos/pangos-recap/
Past Players That Have Attended Pangos All-Midwest Fr/So Camp Include:
Kevon Looney(UCLA/Golden State Warriors), Stephen Van Treese (Louisville/2013 NCAA Champs), Marquis Teague (Kentucky/Chicago Bulls), Tyler Ulis (Kentucky/Phoenix Suns), RJ Hunter(Georgia State/Boston Celtics), Dominique Ferguson (Florida Int'l), Travis Carroll (Purdue), Ryan Boatwright (UConn/2014 NCAA Champs), DJ Byrd (Purdue), Justin Martin (Xavier), Jordan Hulls (Indiana), Michael Chandler (Oregon), Tracy Abrams (Illinois), Branden Dawson (Michigan State), James Crockett (DePaul), George Marshall (Wisconsin) Elgin Cook (Oregon), Dejuan Marrero (DePaul), Stevie Taylor (Miami OH) Darnell Harris (Cleveland State), Chris Harrison-Docks (Butler), Darrell Bowie (Northern Illinois), Akoy Agau (Louisville), Kendrick Nunn (Illinois), Deonte Burton (Marquette),Vince Hunter (UTEP) Trevon Bluiett (Xavier), Vic Law (Northwestern), Marqywell Jackson (UTEP), Andrew McAuliffe (Davidson), Jared Brownridge (Santa Clara), Charles Matthews (Kentucky/Michigan), Sam Longwood (New Mexico), Jeremiah Tillman (Missouri), Brian Bowen (Indiana Pacers), Xavier Tillman (Michigan State/Memphis Grizzlies), Bol Bol (Oregon/Denver Nuggets)
Past Pangos event alumni include LeBron James, Dwight Howard, Paul Pierce, Baron Davis, Tyson Chandler, Gilbert Arenas, Josh Childress, Kirk Hinrich, Tayshaun Prince, Andrew Gooden, Sebastian Telfair, Rashard Lewis, Richard Jefferson, Javarris Crittenton, Gani Lawal, Kyle Lowry, Hakeem Warrick, Stephen Jackson, Arron Afflalo, Gabriel Pruitt, Jared Dudley, JJ Hickson, Anthony Randolph, DeAndre Jordan, Brandon Jennings, DeMar DeRozan, James Harden, Jrue Holiday, Jordan Hill, Austin Daye, Darren Collison, John Wall, Harrison Barnes, Ben Simmons, DeAndre Ayton, Michael Porter, Anthony Edwards
TO REGISTER ONLINE NOW "CLICK" HERE.
BECAUSE SPACE IS LIMITED!!!
For More Info CALL (562) 804-8747 or e-mail: Trigonis30@aol.com
---