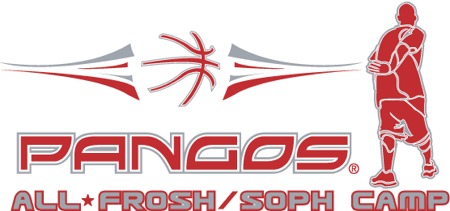 presented by
2018 PANGOS ALL-EAST FROSH/SOPH CAMP
For On-Line Flyer ...

All-East Frosh/Soph Camp - FAQ ...

Saturday-Sunday October 27-28, 2018
@ RiverWinds Community Center (West Deptford Township NJ)
1000 RiverWinds Drive, Thorofare, NJ 08086
(Philadelphia PA area - just across the Delaware River from Philly)

Directions to RiverWinds:
295 SOUTH: Exit 21 proceeding to the traffic light at the bottom of the ramp. Make a right onto Rt. 44 (Crown Point Road). Next light at WaWa make a left onto Delaware Street. Cross Grove Road onto RiverWinds Drive and continue 1.3 miles to Center.
295 NORTH:Exit 21 proceeding to the bottom of the ramp, bear left at the stop sign. Make a left onto Delaware Street proceeding to the traffic light across from the WaWa. Proceed straight through the light, then cross Grove Road onto RiverWinds Drive and continue 1.3 miles to Center.
From Deptford Mall: From Clements Bridge Road make a right onto Cooper Street (Auto Garage on left). Once on Cooper Street, you will remain straight through three lights, at the fourth light you will cross over Broad Street (Woodbury). Cooper Street then becomes Delaware Avenue. From here, you will go through your first light (WaWa) and remain straight through the second light which then becomes RiverWinds Drive. You will continue 1.3 miles to the Community Center.
Day Camper Fee: $225.00
Overnight Camper Fee: NO LONGER AVAILABLE
Overnight Lodging: For Info & SPECIAL Hotel Rates ...

Limited to 200 top East HS Frosh/Soph players
All participating players will be provided an opportunity to demonstrate their skills to all the
top scouts expected to attend this event as well as receiving quality individual instruction.
Camp Video Highlights:
Top High School Freshman & Sophpmores Battle in New Jersey for 2014 Pangos All-East Camp
http://www.youtube.com/watch?v=b8p8h12qlHU
2011 Pangos All-East Frosh/Soph Camp Highlights
http://www.youtube.com/watch?v=PAbZaha6NVY
** Past campers included:
2009 camp MVP Kyle Anderson (UCLA/San Antonio Spurs), Rondae Jefferson (Arizona/Brooklyn Nets), Wade Baldwin (Vanderbilt/Memphis Grizzlies), Ben Bentil (Providence/Boston Celtics), Omar Calhoun (UConn/2013 NCAA Champs), Romelo Trimble (Maryland), Ja'quan Newton (Miami FL) Brandon Austin (Oregon), Jaren Sina (Seton Hall), Savon Goodman (UNLV/Arizona State), Aquille Carr (Seton Hall), Sidiki Johnson (Arizona/Providence), Isaiah Washington (Penn State) Rodney Bullock (Providence), CJ Barksdale (Virginia Tech), Dwayne Foreman (Rutgers) Moustapha Diane (Syracuse), Tim Delaney (Villanova), Daquan Cook (UNLV) Jared Terrell (Rhode Island), Ahmad Fields (Utah/Drexel), John Davis (Towson State) Isaiah Briscoe (Kentucky), Horace Spencer (Auburn), Derrick Jones (UNLV/Phoenix Suns) Trevon Duval (Duke), Quade Green (Kentucky), Isaiah Washington (Minnesota), Tremont Waters (LSU)
**Get Evaluated by the Nation's & East'sTop Scouts like ...

Van Coleman (The Basketball Channel), Clark Francis (Hoop Scoop),
Frank Burlison (BurlisonOnBasketball.com/McDonald's A-A Game voter),
Jeff Borzello (ESPN.com), Dinos Trigonis (Fullcourt Press/Pangos),
Andrew Slater (247Sports.com), Allen Rubin (Hoop Scoop)
Dain Ervin (BI Reports), Ronnie Flores (Ball is Life), Pat Lawless (MADE Hoops)

** Each Player Will Play in Three (3) Camp Games
** All Games live-streamed (and available for replay) on Baller.tv
** All campers will participate in a skills work-out directed by former
NBA/NCAA assistant Dave Miller (Pangos All-American Camp skills director)

** Everyone Receives a Pangos All-East Frosh/Soph Camp t-shirt

** Ball is Life & Courtside Films will provide video coverage

** Top Players Will Be Invited to 2019 Pangos All-American Camp
(early June 2019/Long Beach CA)

* Schedule Subject to Change
Saturday October 27th
10:00am – 1:00pm Camp Registration & Check-in
1:00pm -1:15pm Camp Announcements
1:15pm-2:30pm - Individual Instruction/Drills
2:30pm-3:00pm Team Assignments
3:00pm – 5:15pm Camp Games (round 1)
5:00pm – 6:00pm Dinner
6:00pm – 6:15pm Guest Speaker - Van Coleman
6:15pm -8:30pm Camp Games (round 2)
Sunday October 28th
10:00am – 12:15pm Camp Games (round 3)
12:00pm - 1:00pm Lunch
1:00pm-1:15pm Camp Closing Remarks & Cream of Crop Game Announcements
1:15pm - 2:15pm Cream of the Crop Top 50 Game
2:15pm – 3:15pm Cream of the Crop Top 25 Game
Past Pangos event alumni include LeBron James, Dwight Howard, Paul Pierce, Baron Davis, Tyson Chandler, Gilbert Arenas, Josh Childress, Kirk Hinrich, Tayshaun Prince, Andrew Gooden, Sebastian Telfair, Rashard Lewis, Richard Jefferson, Javarris Crittenton, Gani Lawal, Kyle Lowry, Hakeem Warrick, Stephen Jackson, Arron Afflalo, Gabriel Pruitt, Jared Dudley, JJ Hickson, Brandon Jennings, James Harden, DeMar DeRozan, Jrue Holiday, Jordan Hill, Austin Daye, Darren Collison, John Wall, Brook Lopez, Robin Lopez, Derrick Favors, Harrison Barnes , Anthony Davis, Shabazz Muhammad, Andre Drummond.

TO ACCESS MAIL IN REGISTRATION FORM "CLICK" HERE
TO ACCEPT THIS INVITATION FILL-OUT FORM and MAIL IT BACK TO THE ADDRESS ON FORM
OR CALL (562) 804-8747 or email: trigonis30@aol,com
OR log-on to: www.fullctpress.net FOR MORE INFORMATION