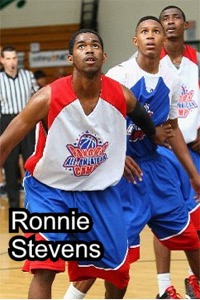 Ronnie Stevens Impresses This July
Stock Rising

6'9" rising senior power-forward Ronnie Stevens (Serra/Gardena CA) had a very impressive summer and is now hearing from a wide variety of mid-to-high major schools.

After being an integral part of a 2010 California State champion Gardena Serra squad, Stevens started the summer with an outstanding Pangos All-American Camp (made the Top 50 Game there) and was an interior anchor for Belmont Shore all July-long. Stevens was invited to the Pangos All-American LIVE in July and his play there earned him a Top 25 Game selection where battled the likes of elite big men like Isaiah Austin and Grant Jerrett. Stevens was also a Top 25 pick at the 2010 Fullcourt Press All-West Camp and performed admirably at the 2010 Las Vegas Fab 48 and Desert Duel (Gilbert AZ). At the Desert Duel, Stevens led an undermanned Belmont Shore squad (only had 5 players in uniform) in its final game against Chicago-based Mac Irvin Fire 17 and responded with a gutsy 25 point/16 board performance that sparked Belmont Shore past the Fire 78-74.

Stevens has always been a dependable rebounder and defender, but recently showed he had a more potent offensive game than previously thought - displaying a soft jump hook as well as nifty footwork on the block that he utilized for an array of post moves.

Stevens (a legitimate top 150-200 national prospect) is now receiving serious interest from the likes Marquette, Virginia Tech, Oregon, Colorado, Washington State, UTEP, San Diego State, Utah, Texas Christian, New Mexico State, Nevada, Colorado State, Long Beach State, UC-Santa Barbara, SMU, Tulsa, Houston, Loyola Marymount, Wyoming, UC-Irvine, San Diego, Santa Clara, Idaho, Seattle, Pepperdine, Cal State Fullerton and Cal State Northridge.