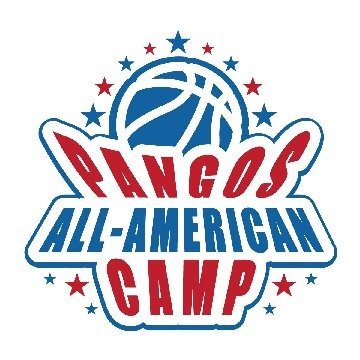 Pangos All-American Camp Website

2017 Pangos All-American Camp Info
The 15th annual Pangos All-American Camp will be held on Friday-Sunday June 2-4, 2017 @ Cerritos College (Norwalk CA)

Out-of-area campers and media will be staying overnight just 5-10 minutes away at the beautiful 203-room Sheraton Cerritos in Cerritos, California.

For more info about the Sheraton Cerritos: http://www.sheratoncerritos.com/
Special Pangos AA Camp Parents/Fans Hotel Rates
This national camp has served as a "coming out" party for many top past and current HS all-americans and well as a showcase for many more national "sleepers". Past camp MOPs have been James Harden (Arizona State/Houston Rockets/2009 NBA Draft #3 pick), Brandon Jennings (New York Knicks/2009 NBA Draft #10 pick), John Wall (2008 Rivals.com #1 player/Kentucky/Washington Wizards/#1 pick of the 2010 NBA Draft), Harrison Barnes (Scout.com & ESPN.com's #1 2010 player/North Carolina/Golden State Warriors lottery pick), Shabazz Muhammad (consensus #1 in 2012/UCLA/Minnesota Timberwolves), Stanley Johnson (NBN #1 player/Detroit Pistons lottery pick) and Cliff Alexander (Top 5 2014 prospect/Kansas/Portland Trailblazers). The nation's #1 2011 prospect Anthony Davis(Kentucky/New Orleans Pelicans), Quincy Miller (Baylor/Denver Nuggets), Brad Beal (Florida/Washington Wizards), DeAndre Daniels (UConn/2014 National Champs/Toronto Raptors draft pick), Chasson Randle(Stanford), LeBryan Nash (Oklahoma State) and Quinn Cook (Duke) were Top 25 Game selections in 2010. 2011 Top 25 Game standouts included Andre Drummond (UConn/Detroit Pistons), Anthony Bennett (UNLV/#1 pick of the 2013 NBA Draft/Cleveland Cavaliers), Isaiah Austin (Baylor), Grant Jerrett (Arizona/OKC Thunder), Cameron Ridley (Texas), Marcus Paige (North Carolina), Tyler Lewis (NC State/Butler), Archie Goodwin(Kentucky/Phoenix Suns), Jordan Adams (UCLA/Memphis Grizllies), Aaron Gordon (Arizona/Orlando Magic) and Kris Dunn (Providence).

The event is an invitation-only event and only top nationally ranked players will be invited. The camp is open for viewing to the public. There is no admission charge to watch the action.

As has been the case in past years, a large contingent of national/regional media and scouts are expected to attend. National media/scouts attending past camps include Van Coleman (The Basketball Channel/McDonald's All-American Game Selection committee), Clark Francis (Hoop ScoopMcDonald's All-American Game Selection committee), Frank Burlison (BurlisonOnBasketball.com/McDonald's All-American Game Selection committee), Brick Oettinger (PrepStars.com/McDonald's All-American Game Selection committee), Jerry Meyer (247Sports.com/McDonald's All-American Game Selection committee), Eric Bossi(Rivals.com/McDonald's All-American Game Selection committee), Paul Biancardi, Jeff Borzello & John Stoval (ESPN.com), Evan Daniels & Josh Gershon (Scout.com), Seth Davis & Doug Gottlieb (CBS Sports), Scott Phillips (NBC Sports), Aggrey Sam (SLAM Magazine), Ronnie Flores (GrassrootsHoops.net & BallisLife.com), Horace Neysmith (All-Metro Sports), Patrick Stanwood & Sean Ceglinsky (Nothing But Net Magazine), Chris Lawlor (Blue Star Media), Thom Jones (TJ Sports), Aran Smith (NBADraft.net), Jonathan Givony(DraftExpress.com),Joel Francisco, Christian Popoola (PremierBall.com), Chad Groth(AreaCodesBasketball.com),Joe Davis (Scouts Focus) and Matt Rodriguez (BallisLife.com).
Besides the players mentioned above, other past camp standouts include NBA draft picks like Russell Westbrook (Oklahoma City Thunder), DeMar DeRozan (Toronto Raptors), Derrick Favors (Utah Jazz), DeAndre Jordan (Los Angeles Clippers), Kyle Lowry (Toronto Raptors), Chandler Parsons (Dallas Mavericks), Emmanuel Mudiay (Denver Nuggets), Jrue Holiday (New Orleans Pelicans), Derrick Williams (New York Knicks), Jordan Hill (Los Angeles Lakers), CJ Miles (Cleveland Cavaliers/2004 Camp MVP), Arron Afflalo (Denver Nuggets), Jared Dudley (Milwaukee Bucks), JJ Hickson (Portland Trailblazers), Jerryd Bayless (Milwaukee Bucks), Taj Gibson (Chicago Bulls), Zack LaVine (Minnesota Timberwolves), Robert Swift (Oklahoma City Thunder), Dorrell Wright (Portland Trailblazers), Anthony Randolph (Golden State Warriors), Kyle Weaver (Oklahoma City Thunder), Austin Daye (San Antonio Spurs), Jeff Pendergraph (Los Angeles Clippers), Gabriel Pruitt (Boston Celtics), Gani Lawal (Phoenix Suns), Darius Morris (Brooklyn Nets), Jeremy Tyler (Golden State Warriors), Howard Thompkins (Los Angeles Clippers), Chris Singleton (Washington Wizards) and Quincy Pondexter (Memphis Grizzlies) as well as current college stars that fill rosters at such elite schools as Kentucky, UConn, Duke, North Carolina, Florida, UCLA, Memphis, Texas, Kansas, Arizona, USC, Stanford, Michigan State, Washington State, Louisville, Georgetown, North Carolina State, Arizona State, Washington, Cal, Georgia Tech, Baylor, Oklahoma State, Villanova, Texas A&M, Marquette, Oregon State, Florida State, Michigan, Tennessee, Gonzaga, Oregon, Georgia, Miami FL, Alabama, UNLV and Louisiana State.

2017 CAMP SCHEDULE

Friday June 2, 2017

1:00pm - 5:00pm Hotel Check-in @ Sheraton Cerritos
5:45pm – 6:00pm Bus leaves for Cerritos College
6:00pm - 6:45pm Dinner at Cal Cerritos College
6:00pm - 7:00pm Camp Registration and Gear Distribution @ Cerritos College
7:00pm-7:15pm Opening Remarks/Instructions
7:15pm - 8:30pm Individual Instruction
8:30pm - 9:15pm Camp Games – 3 courts (ACC Round 1)
9:15pm-10:00pm Camp Games- 3 courts (Pac-10 Round 1)

Saturday June 3, 2017

9:00am-10:00am Breakfast at Hotel
11:45am Depart hotel (via shuttle) to Cerritos College
12:00pm - 1:00pm Lunch at Cerritos College
1:00pm – 1:30pm Strength & Conditioning work-out
1:30pm-3:00pm Individual Instruction
3:00pm - 4:00pm Camp Games – 3 courts (ACC Round 2)
4:00pm - 5:00pm Camp Games – 3 courts (Pac-10 Round 2)
5:00pm - 6:00pm Dinner at Cerritos College
6:00pm - 6:40pm Recruiting Roundtable (Q&A with national scouts)
6:40pm - 7:35pm Camp games – 3 courts (ACC Round 3)
7:35pm - 8:30pm Camp games - 3 courts (Pac-10 Round 3)

Sunday June 4, 2017

8:00am-8:45am Breakfast
8:45am Depart (via bus) to Cerritos College
9:30am - 10:15am Camp games – 3 courts (ACC Round 4)
10:15am - 11:00am Camp games - 3 courts (Pac-10 Round 4)
11:00am-11:45pm Lunch at Gym
11:45am - 12:00pm Announcement of All-Star Teams/Final Remarks
12:00pm - 1:15pm "Cream of the Crop" Top 50 Game
1:15pm - 2:15pm "Cream of Crop" Top 25 Game
2:00pm - 5:00pm Campers depart/transport out-of-state campers to airport

Camp Video History:

"Drive" 2011 Pangos All-American Camp All-Access
http://www.youtube.com/watch?v=dZWq63w7DGM

Pangos All-American Camp 2010 presented by Give N Go
http://www.youtube.com/watch?v=MxrO_vKlg_0


TOP Players Show OUT at 2011 Pangos All American Camp! Shabazz Muhammad, Andre Drummond & More!

http://www.youtube.com/watch?v=XvfyfjwLFcw

2012 Pangos All American Mixtape: Nation's Top Talent Going Head To Head!
http://www.youtube.com/watch?v=47zXuTgWzjA
Top Players Showing OUT at 2013 Pangos All American Camp! OFFICIAL Mixtape!
http://www.youtube.com/watch?v=G-bbJOmu7JA


For more information contact camp director Dinos Trigonis at (562) 804-8747 or by e-mail: trigonis30@aol.com

For MEDIA Credentials: