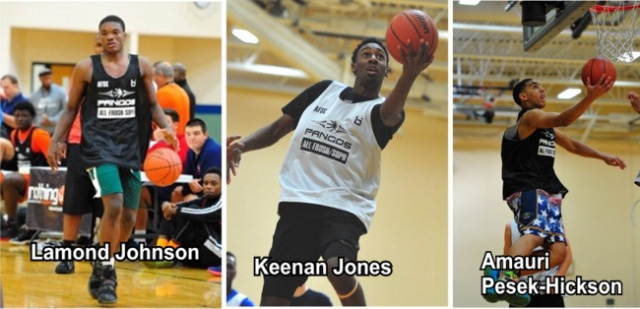 Martynas Macenis 6'4" 2019 Stagg (Palos Hills IL)
Spot-up shooter with a nice 3-point stroke. Good student too (3.4 GPA).
Kevon Mayers 6'5" 2019 Bogan (Chicago IL)
Undersized but physical PF has a blue-collar mentality in the paint. National scout Frank Burlison called Mayers the best rebounder at this camp.
Patrick McCaffery 6'9" 2019 West (Iowa City IA)
Very skilled Keith Van Horn-type hybrid forward is athletic and agile in transition. "PMac" is an excellent face-up shooter and a very good rebounder and shot-blocker that was dominant in stretches of the camp which earned him camp MOP honors. Excellent student too (3.6 GPA).
Dan McKeeman 5'11" 2019 Carroll (Ft. Wayne IN)
Sharp-shooting point guard makes sound decisions with the rock. Excellent student too (4.0 GPA).
John-Michael Mulloy 6'8" 2019 Carmel (Carmel IN)
Very physical lefty PF has a high basketball IQ as well as a stellar 4.0 GPA.
Taeyon Neal 6'10" 2019 Providence St. Mel (Chicago IL)
Young "big" is a work in progress but has the size and emerging skill set to be a must-track 2019 Midwest prospect.
Treye Tucker 5'8" 2019 Christian Life (Rockford IL)
Small but flamboyant PG is exciting when he has the ball in his hands and has a very confident 3-point stroke.
Jeremiah Oden 6'6" 2019 St. Rita (Chicago IL)
Growing WF with a legit 3-point stroke. Excellent student too (3.8 GPA).
Amauri Pesek-Hickson 6'3" 2019 Omaha South (Omaha NE)
Strong and athletic wing scorer has a nice pull-up jump shot as well as good court vision. Pushes rock well in transition and can finish through contact.
Nate Santos 6'4" 2020 Geneva Community (Geneva IL)
Smooth WG with a perimeter stroke that extends to 3-point line has excellent court instincts. Terrific in the classroom too ("A" student).
Jamari Sibley 6'9" 2020 Nicolet (Milwaukee WI)
Very promising young combo-forward is long and athletic with an excellent skill set. Sibley uses that length to rebound out of his area as well as being a formidable rim-protector. Can use either hand on his drives to the cup and has nice range on his smooth jump shot.
Raymond Terry 6'9" 2020 Bowman Academy (Gary IN)
Young post is not close to a finished product yet but has HM size and the strength to be recruited at the Big 10 level.
Marquise Walker 6'0 2019 St Joseph (Westchester IL)
Very confident PG plays the position with plenty of swagger and his ball speed and ability to shoot the rock make him hard to guard. Walker impressed in Top 30 Game and will benefit under the tutelage of long-time St. Joseph's (Westchester IL) coach Gene Pingatore.
Justin Warren 5'9" 2019 Whitney Young (Chicago IL)
Very quick point guard is hard to contain in transition and has a legit 3-point stroke that must be respected. Very good student (3.5 GPA) shot the ball exceptionally well in Top 30 Game.
Joel Watts 5'9" 2020 St. Rita (Chicago IL)
Speedy floor-general can create for himself as well as teammates. Very good student (3.6 GPA) had 16 points in Top 30 Game.
Brandon Weston 6'3" 2020 St. John NW Military Academy (Delafield WI)
New York native attending school in Wisconsin is a hardworking wing that is an effective scorer that finishes well through contact. Very good defender with nice range on jump shot. Weston hit game winning 35-foot shot at buzzer in Top 30 Game. Good student too.
Trayvon Williams 6'3" 2019 Valley (West Des Moines IA)
Scrappy WG is a crafty scorer that pushes the ball well on the break.
Jalen Windham 6'4" 2019 Ben Davis (Indianapolis IN)
Strong wing can beat defenders off the bounce and is effective scoring through contact. Windham (a good student) had an impressive 16 points in the Top 30 game.