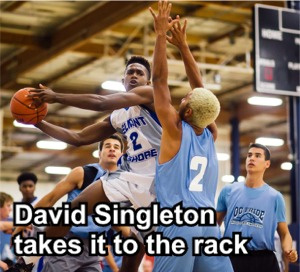 Belmont Shore squeaks by Wisconsin United 62-61 to capture 2016 Pangos Summer Sweet 16 Title
by Dinos Trigonis
(July 11, 2016)
The 2016 Pangos Summer Sweet 16 was held this past weekend (July 8-10, 2016 at the MAP/Garden Grove CA and Cerritos College/Norwalk CA). 80 teams (divided into five 16-team brackets) from California, Arizona, Nevada, Oregon, Texas, Wisconsin and Germany participated.
A sizeable contingent of college coaches as well as media and scouts attended including Frank Burlison (BurlisonOnBasketball.com), Ronnie Flores (BallisLife.com & Grassroothoops.net), Dinos Trigonis (Fullcourt Press & Nothing But Net Magazine), Josh Gershon (Scout.com), Joel Francisco, Devin Ugland (HoopsbyUgland.com), Chris Karpman (ASU/Scout.com), Aaron Burgin (Full-time Hoops), Matt Harris (AreaCodesBasketball.com) Dave Keefer & Dave Rogahn (CaliforniaPreps.com) and Ladell Hill (Mid-Major Report).

6-4 2018 guard David Singleton III nailed 2 free-throws with just 3 seconds remaining in the game and teammate 6-6 2017 Isaiah White had a game high 20 points/11 rebounds to lead Belmont Shore to a narrow 62-61 victory over a tough Wisconsin United team in the 17u Invite championship game.

In the 17u Platinum Division Bracket, it was Cooper International Academy (CA) that knocked off Arizona Dream Team (AZ)54-46 to win the crown. Cooper Int'l Academy's Chidi Udengwu had 14 points/9 rebounds while teammate Chris Johnson had 14 points/7 boards.

In the 17u Diamond Division Bracketit was Ultimate Elite 2018 (CA) running away from NorCal Jump-Squad (CA) 77-54 in the championship game.

Power Factory 16 (AZ) was the class of the 16u Select Division – defeating Coastal Elite 16 (CA) 62-49.

Compton Magic Elite 15 (CA) won the 15u Gold Division – emerging victorious over Phamily Blue 15 (CA) 65-57 in the championship game.
The 2016 Pangos Summer Sweet 16 17u Invite Division all-tourney team (co-MVPs followed by rest of team in alphabetical order) is as follows:

David Singleton 6'4" 2018 Bishop Montgomery (Torrance CA) co-MVP
Singleton did not have his best shooting weekend here but his presence was still of championship quality – leading Belmont Shore to a 4-0 record and 2016 Invite Division title. While he had only 11 points in the Final, Singleton had two major plays that helped Belmont win the chip – a big time "3" to tie game at the end of the 1st half and nailing 2 FTs with 3 seconds remaining in title game versus Wisconsin United to give his squad a 1 point lead (62-61) and the crown. David averaged 19.3 points and 8.1 assists per game here (corralling tourney co-MVP honors). Excellent student (3.9 GPA) had Stanford, UCLA, Oregon, USC, Colorado, Gonzaga and Penn on hand this past weekend

Isaiah White 6'6" 2017 Damien (La Verne CA)/prep school co-MVP
Very improved and versatile forward attacks the hoop off the bounce, fills the lane like a deer in transition and doesn't mind working the glass on both ends. Add a refined jump shot that hit the mark more often than not this past week and this recently declared full-qualifier is a player definitely on the rise. Impressive play here helped carry Belmont Shore to Invite Division title and led to a share of co-MVP honors with teammate David Singleton. Looking to do a post-grad year starting this Fall but is open to right opportunity from a mid-major or higher program looking for a last-minute player for this upcoming college season.

***************************************************************************

Paul Araujo 6'4" 2017 Foothill (Santa Ana CA)
Lights-out shooter with a smooth outside stroke.

Javonni Bickham 6'6" 2018 Minnehaha Academy (Minneapolis MN)
Strong combo-forward is a tough defender and can score through contact.

Kihei Clark 5'9" 2018 Taft (Woodland Hills CA)
Quick PG is hard to contain off the bounce and has legitimate range on his perimeter shot.

Virshon Cotton 6'1" 2017 Rufus King (Milwaukee WI)
Smart point guard really knows how to run a team and consistently makes wise decisions.
Michael Diaz 6'2" 2017 Orange Glen (Escondido CA)
Athletic defender is a good student.

George Dixon 6'5" 2017 Riverside (Milwaukee WI)
Built like a NFL linebacker, Dixon is a tenacious defender and rebounder as well as a very underrated perimeter scorer. Dixon had 20 points and 8 rebounds against Belmont Shore in the title game.

Maka Ellis 6'5" 2018 Sierra Vista (Las Vegas NV)
Excellent scoring guard is also a terrific student.

Bryce Hamilton 6'2" 2018 Pasadena (Pasadena CA)
Smooth and quick lefty lead guard can score off bounce viaa nice pull-up J as well as finish at the cup. Good student too (3.3 GPA) with great hoop genes: Dad Kevin played for legendary Bear Haskins at UTEP & cousins are Jordan (NBA), Isaac (UCLA) and Daniel Hamilton (UConn).

Dre Martin 5'11" 2017 Apollo (Glendale AZ)
Crafty PG can get buckets as well as set up teammates.

Cezar Meza 5'9" 2016 Norco (Norco CA)
Celebral PG plays with poise and purpose.

Malik Ondigo 6'10" 2016 Dysart (El Mirage AZ)
Very improved interior player is starting to get real comfortable scoring with his back to basket. Had a 25 point outburst in semi-final game versus tourney champ Belmont Shore here.

Solomon Ruddell 7'0" 2017 Hill School (Pottstown PA)
Skilled center with good hands and ability to score on the block.

Blake Seits 6'3" 2017 Ramona (Ramona CA)
Consistently dangerous sharp-shooter must be guarded behind 3 point arc.
Nigel Shadd 6'9" 2017 Tri-City Christian (Chandler AZ)
Bouncy PF runs floor well and is a regular visitor on the glass.

Jerrell Springer 6'6" 2017 Shadow Ridge (Las Vegas NV)
West Coast sleeper is an excellent slashing scorer that can finish in transition.

Ben Vander Plas 6'8" 2017 Ripon (Ripon WI)
Terrific shooting forward has the range to extend defenses and his effort on the glass is impressive too. Great student had 19 points vs. Belmont Shore in the title game.
Dillon Voyles 6'6" 2017 Galena (Reno NV)
"Jack-of-all-trades" hybrid forward averaged a double-double here.
Michael Wang 6'8" 2018 Mater Dei (Santa Ana CA)
Chinese foreign-exchange student (with nice grades) is an attractive "face-up" PF that shoots rock with confidence and is getting better on the boards.
17u Invite Division players meriting "Honorable Mention" include (in alphabetical order) 6'7" 2016 Samuel Adjei (Redemption/Christian Academy/NY), 6'5" 2017 Elijah Cooks (Atascadero/CA), 5'11" 2016 Andre Ferguson (Loomis Chaffee/Windsor CT), 6'11" 2017 Jacob Hughes (El Dorado/Placentia CA), 6'4" 2017 Maui Sera Josef (Sierra Vista/Las Vegas NV), 6'2" 2018 Logan Johnson (St. Francis/Mountain View CA), 6'3" 2017 Marcus Loadholt (Spanish Springs/Sparks NV), 7'1" 2018 Majur Majak (Village Christian/Sun Valley CA), 6'5" 2017 Gabe Tanella (Home School/Plano TX), 6'8" 2016 Cartrell Thompson (Price/Los Angeles CA), 6'6" 2018 Fletcher Tynen (Bishop Montgomery/Torrance CA), 5'9" 2016 Paul Vilela (Centennial/Corona CA), 6'3" 2018 Jake Wojcik (Bellermine Prep/San Jose CA).