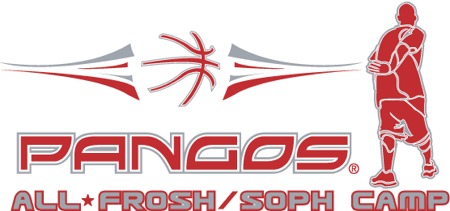 presented by


2015 PANGOS ALL-WEST FROSH/SOPH CAMP
2015 PANGOS All-WEST Frosh/Soph Camp - FAQ ...

Saturday - Sunday September 26-27, 2015
Cerritos College (Norwalk CA)
11110 Alondra Blvd., Norwalk, CA 90650
Day Camper Fee: $225.00
Overnight Camper Option is No Longer Available.
Overnight Lodging: Holiday Inn/La Mirada
14299 Firestone Blvd., La Mirada CA 90638
Special Camp Rate for Parents
Limited to 180 Top West Coast HS Frosh/Soph Players
All participating players will be provided an opportunity to demonstrate their skills to all the top national/regional scouts expected to attend as well as receiving quality instruction.
** Play Top West Coast Competition**
**Get Evaluated by the West Coast's and the Nation's Top Scouts
** Each Player Will Play in Four (4) Camp Games
** Everyone Receives a Pangos All-West Frosh/Soph Camp t-shirt
** Top Players Invited to 2016 Pangos All-American Camp (June 1-3, 2016)
The past nine camps have included such top underclass prospects as Arron Afflalo (UCLA/Orlando Magic), Jerryd Bayless (Arizona/Milwaukee Bucks), Russell Westbrook (UCLA/OKC Thunder), Brandon Jennings (Detroit Pistons), James Harden (Arizona State/OKC Thunder), Jrue Holiday (UCLA/New Orleans Pelicans), DeMar DeRozan (USC/Toronto Raptors), Aaron Gordon(Arizona/Orlando Magic), Austin Daye(Gonzaga/San Antonio Spurs), Quincy Pondexter(Washington/Memphis Grizzlies), Landry Fields (Stanford/Toronto Raptors), Jordan Hamilton (Texas/Houston Rockets) Jeremy Tyler (Sacramento Kings), Darius Morris (Michigan/Los Angeles Lakers), Grant Jerrett (Arizona/OKC Thunder), Jeff Withey (Kansas/New Orleans Pelicans), Malcolm Lee (UCLA/Minnesota Timberwolves), Gabriel Pruitt (USC/Boston Celtics), Justin Holiday (Washington/Philadelphia 76'ers), Daniel Orton(Kentucky/Orlando Magic), DeAndre Daniels (UConn/Toronto Raptors), Julyan Stone(UTEP/Toronto Raptors), Josh Huestis(Stanford/OKC Thunder), Josh Shipp (UCLA), Jamal Boykin (Duke/Cal),Davon Jefferson (USC/French Pro League), Anthony Goods (Stanford), Marcel Jones (Oregon State), Marcus Johnson(UConn/USC), Taylor Rochestie (Washington State), Patrick Christopher (Cal), Jordan Wilkes (Cal), Christian Polk (Arizona State/UTEP), Alex Stepheson (North Carolina/USC), Lawrence Hill (Stanford), Seketoure Henry (Nebraska), Kendall Williams (New Mexico), Jamelle Horne (Arizona), Omondi Amoke (Cal/Cal State Fullerton), Drew Gordon (UCLA/New Mexico), Troy Gillenwater (New Mexico State), Jerime Anderson (UCLA), Malik Storey (Indiana/Nevada),Tyreese Breshers (Washington), Renaldo Woolridge (Tennessee/USC), Carlon Brown (Colorado/2012 Pac-12 Tourney MVP), Dave & Travis Wear (North Carolina/UCLA), Michael Snaer (Florida State), Roberto Nelson(Oregon State), Joe Burton (Oregon State), Justin Cobbs (Minnesota/Cal), Xavier Thames (Washington State/San Diego State), Justin Hawkins (UNLV), Tyler Lamb (UCLA/Long Beach State), Gary Franklin (Cal/Baylor), Joe Jackson (Memphis), Cezar Guerrero (Oklahoma State/Fresno State) and Gabe York (Arizona).
It has been attended by such top national and regional scouts as Frank Burlison (BurlisonOnBasketball.com/McDonald's All-American Game voter),Van Coleman (The Basketball Channel/McDonald's All-American Game voter), Clark Francis (Hoop Scoop/McDonald's All-American Game voter), Dinos Trigonis (Fullcourt Press, Pangos & Nothing But Net Magazine), Etop Udo-Ema (Dunk News), Joel Francisco (ESPN.com), Ronnie Flores (Grassrootshoops.net & Ball is life), Matt Rodriguez (BallisLife.com), Chad Groth(AreaCodesBasketball.com), Christian Popoola(PremierBall.com), Tracy Pierson & Greg Hicks (Scout.com/UCLA), Dave Keefer, Dave Rogahn & Jack Nelson (CaliforniaPreps.com), Sean Celinsky (Nothing But Net Magazine), Paul Dean(WestCoastHoopsReport.com), Lee Hubbard (NorCalPreps.com), Roy White(IHigh.com), Johnny Hernandez (Next Level Connect), Neal Nieves (24Sports.com/UCLA), Alan Utter (Hoop Scoop), Nick Koza (SportsAmp.com) and Jerry Gale (SoCalHoops.com).
Recent video highlights:
Top Underclassmen Show Out at Pangos All Frosh/Soph West Camp! Billy Preston, Jaylen Hands & More!
https://www.youtube.com/watch?v=ilSmWRONTNo
Top Underclassmen Show Out at 2013 Pangos All-West Frosh/Soph Camp!
http://ballislife.com/top-underclassmen-show-out-at-pangos-all-froshsoph-camp/
Aaron Gordon, Jabari Bird, Stanley Johnson, Tyler Dorsey at 2011 Pangos All-West Frosh/Soph Camp !
http://ballislife.com/all-froshsoph-camp-mix-top-underclassmen-in-the-west-going-at-it/
2015 Camp Schedule
Saturday September 26th

11:00am - 12:30pm Camp Registration & Check-In
12:30pm - 1:00pm Camp Announcements and Team Assignments
1:00pm - 2:30pm Skills Workout
2:30pm - 5:00pm Camp Games (session I)
5:00pm - 6:00pm Dinner
6:00pm - 6:30pm Recruiter's Roundtable: Q&A with scouts/media
6:30pm - 9:00pm Camp Games (session II)

Sunday September 27th

9:00am - 11:00am Camp Games (session III)
11:00am - 2:00pm Camp Games (session IV)
12:00pm - 1:00pm Lunch
2:00pm - 2:30pm Final Remarks & All-Star Announcements
2:30pm - 3:30pm Cream of the Crop Top 40 Game
3:30pm - 4:30pm Cream of the Crop Top 20 Game
TO PARTICIPATE FILL-OUT REGISTRATION FORM and MAIL IT TO THE
ADDRESS ON FORM OR CALL (562) 714-0422 or e-mail: Trigonis30@aol.com
BECAUSE SPACE IS LIMITED!!!

**********************************
2015 PANGOS ALL-WEST FROSH/SOPH CAMP
September 26-27, 2015 @ Cerritos College (Norwalk CA)
PLAYER REGISTRATION FORM
(please print)
Name________________________________ School _________________________________

Home Address ________________________________________________________________
City ___________________________________________ Zip Code ______________________

Phone ( ) ____________________________ e-mail _______________________________

Grade 2015-16 ________________ Height ___________ Weight _________

GPA __________________ SAT/ACT Score _________________________

Parent/Guardian _______________________________________________

Please Circle One: Day Camper $225 * Overnight Camper is No Longer Available

Please mail payment (make money orders payable to "All-West Camp") and completed form to:
Pangos All-West Frosh/Soph Camp, P.O. Box 77906, Corona CA 92877

HEALTH AND BEHAVIOR GUIDELINES AND WAIVER OF LIABILITY
HEALTH INSURANCE CO. ______________________________________________________

Policy No. _____________________________________ Group No. _____________________

I understand that any Pangos All-West Frosh/Soph Camp participant who does not abide by the rules, regulations and policies established by the Pangos All-West Frosh/Soph Camp (PAWF/SC) is subject to dismissal without reimbursement or recourse and I hereby waive and release the PAWF/SC and the Cerritos College (CC) from any and all liability for any injury or illnesses while participating in the camp. I hereby authorize the directors of the PAWF/SC and CC to act according to their best judgment in any emergency if I cannot be contacted. I understand that each camp participant is required to have their own medical and accident insurance. I also understand that the PAWF/SC retains the rights to use for publicity and advertisements purposes, photographs of camp participants.

___________________________________________________________________
SIGNATURE OF PARENT OR GUARDIAN