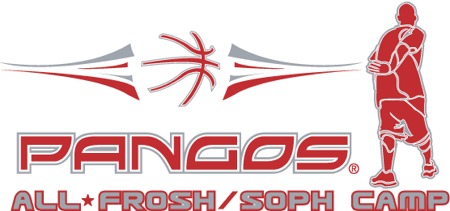 presented by
2015 PANGOS ALL-EAST FROSH/SOPH CAMP
2014 All-East Frosh/Soph Camp - FAQ ...

Saturday-Sunday October 24-25, 2015
@ RiverWinds Community Center (West Deptford Township NJ)
1000 RiverWinds Drive, Thorofare, NJ 08086
(Philadelphia PA area - just across the Delaware River from Philly)
Directions to RiverWinds:

295 SOUTH: Exit 21 proceeding to the traffic light at the bottom of the ramp. Make a right onto Rt. 44 (Crown Point Road). Next light at WaWa make a left onto Delaware Street. Cross Grove Road onto RiverWinds Drive and continue 1.3 miles to Center.
295 NORTH:Exit 21 proceeding to the bottom of the ramp, bear left at the stop sign. Make a left onto Delaware Street proceeding to the traffic light across from the WaWa. Proceed straight through the light, then cross Grove Road onto RiverWinds Drive and continue 1.3 miles to Center.
From Deptford Mall: From Clements Bridge Road make a right onto Cooper Street (Auto Garage on left). Once on Cooper Street, you will remain straight through three lights, at the fourth light you will cross over Broad Street (Woodbury). Cooper Street then becomes Delaware Avenue. From here, you will go through your first light (WaWa) and remain straight through the second light which then becomes RiverWinds Drive. You will continue 1.3 miles to the Community Center.
Day Camper Fee: $195.00
Overnight Camper Fee: NO LONGER AVAILABLE
Overnight Camper Lodging: Best Western West Deptford Inn
101 Grove Road US, Thorofare NJ 08086 (856) 848-4111
Special Camp Parents/Friends Rate: $76.00 (plus tax) per night
Additional Hotel Rooms Available:
Holiday Inn Philadelphia South- Swedesboro NJ
Special Pangos Camp rate: $94.00 plus tax per night
1 Pureland Drive, Swedesboro NJ 08085
Phone (877) 784-5889
Reserve Rooms online at: www.holidayinn.com/swedesboronj
Limited to 120 top East HS Frosh/Soph players
All participating players will be provided an opportunity to demonstrate their skills to all the
top scouts expected to attend this event as well as receiving quality individual instruction.
Camp Video Highlights:
Top High School Freshman & Sophpmores Battle in New Jersey for 2014 Pangos All-East Camp
http://www.youtube.com/watch?v=b8p8h12qlHU
2011 Pangos All-East Frosh/Soph Camp Highlights
http://www.youtube.com/watch?v=PAbZaha6NVY
** Past campers included:
2009 camp MVP Kyle Anderson

(UCLA/San Antonio Spurs)


Rondae Jefferson

(Arizona/Brooklyn Nets)


Omar Calhoun

(UConn/2013 NCAA Champs)


Brandon Austin

(Oregon)


Jaren Sina

(Seton Hall)


Savon Goodman

(UNLV),


Aquille Carr

(Seton Hall signee)


Sidiki Johnson

(Arizona/Providence)


Isaiah Washington

(Penn State)


Rodney Bullock

(Providence)


Ja'quan Newton

(Miami FL)


Romelo Trimble

(Maryland)


Rodney Bullock

(Providence)


CJ Barksdale

(Virginia Tech)


Dwayne Foreman

(Rutgers)


Ben Bentil

(Providence)


Moustapha Diane

(Syracuse)


Tim Delaney

(Villanova)


Wade Baldwin

(Vanderbilt)


Daquan Cook

(UNLV)


Jared Terrell

(Rhode Island)


Ahmad Fields

(Utah/Drexel)


John Davis

(Towson State)


Isaiah Briscoe

(Kentucky)


Horace Spencer

(Auburn)


Derrick Jones

(UNLV)


Trevon Duval

(Top 5 2017 national prospect)
**Get Evaluated by the Nation's & East'sTop Scouts like
Van Coleman (The Basketball Channel), Clark Francis (Hoop Scoop),
Frank Burlison (BurlisonOnBasketball.com/McDonald's A-A Game voter)
Jeff Borzello (ESPN.com), Dinos Trigonis (Fullcourt Press/Pangos),
Andrew Slater (247Sports.com) & Allen Rubin (Hoop Scoop)
Dain Ervin (BI Reports), Ronnie Flores (Ball is Life)
** Each Player Will Play in Four (4) Camp Games

** All campers will participate in a skills work-out

** Everyone Receives a Pangos All-East Frosh/Soph Camp t-shirt

** Top Players Will Be Invited to 2016 Pangos All-American Camp
(late May 2016/Long Beach CA)
* SCHEDULE MAY BE REVISED
Saturday October 24th
12:00pm – 1:00pmCamp Registration & Check-in
1:00pm -1:30pm Camp Announcements & Team Assignments
1:30pm-2:30pm - Individual Instruction/Drills
2:30pm – 5:30pm Camp Games (2 courts)
5:00pm – 6:00pm Dinner
6:00pm – 6:30pm Recruiter's Roundtable: Q&A with scouts/media
6:30pm -8:30pm Camp Games (3 courts)
Sunday October 25th


9:00am – 12:30pm Camp Games
12:00pm - 1:00pm Lunch
1:00pm-1:15pm Camp Closing Remarks & Cream of Crop Game Announcements
1:15pm - 2:15pm Cream of the Crop Top 40 Game
2:15pm – 3:15pm Cream of the Crop Top 20 Game
Past Pangos event alumni include LeBron James, Dwight Howard, Paul Pierce, Baron Davis, Tyson Chandler, Gilbert Arenas, Josh Childress, Kirk Hinrich, Tayshaun Prince, Andrew Gooden, Sebastian Telfair, Rashard Lewis, Richard Jefferson, Javarris Crittenton, Gani Lawal, Kyle Lowry, Hakeem Warrick, Stephen Jackson, Arron Afflalo, Gabriel Pruitt, Jared Dudley, JJ Hickson, Brandon Jennings, James Harden, DeMar DeRozan, Jrue Holiday, Jordan Hill, Austin Daye, Darren Collison, John Wall, Brook Lopez, Robin Lopez, Derrick Favors, Harrison Barnes , Anthony Davis, Shabazz Muhammad, Andre Drummond
TO ACCEPT THIS INVITATION FILL-OUT FORM and MAIL IT BACK TO THE ADDRESS ON FORM
OR CALL (562) 804-8747 or (407) 760-6766
or email: trigonis30@aol,com
OR log-on to: www.fullctpress.net FOR MORE INFORMATION
******************************************************************************************************
2015
PANGOS ALL-EAST FROSH/SOPH CAMP
PLAYER REGISTRATION FORM
(please print)
Name__________________________ School _______________________

Home Address _________________________________________________

City ___________________________________ Zip Code ______________

Phone ( ) ______________________ e-mail ______________________

Grade 2015-16 ________________ Height ___________ Weight _________

GPA __________________ SAT/ACT Score _________________________
Parent/Guardian _______________________________________________
Please Circle One: Day Camper $195 Overnight Camper $275
Please mail payment (make money orders payable to "Fullcourt Press") and completed form to:
Pangos All-East Frosh/Soph Camp, 3122 Theresa Street #1, Long Beach CA 90814

HEALTH AND BEHAVIOR GUIDELINES AND WAIVER OF LIABILITY

HEALTH INSURANCE CO. ______________________________________________________

Policy No. _____________________________________ Group No. _____________________

I understand that any Pangos All-East Frosh/Soph Camp participant who does not abide by the rules, regulations and policies established by the Pangos All-East Frosh/Soph Camp (PAEFSC) is subject to dismissal without reimbursement or recourse and I hereby waive and release the PAEFSC from any and all liability for any injury or illnesses while participating in the camp. I hereby authorize the directors of the PAEFSC to act according to their best judgment in any emergency if I cannot be contacted. I understand that each camp participant is required to have their own medical and accident insurance. I also understand that the PAEFSC retains the rights to use for publicity and advertisements purposes, photographs of camp participants.
_________________________________________________________
SIGNATURE OF PARENT OR GUARDIAN